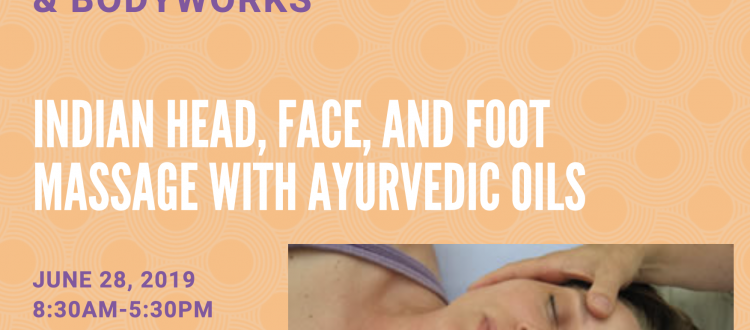 Indian Head, Face, and Foot Massage with Ayurvedic Oils
Indian Head Massage has been practiced for many centuries as part of the family health care. Indian mothers would massage their children's hair, head, neck and shoulders to stimulate growth and aid in relaxation.
The benefits of Indian head massage include purifying, rejuvenating and strengthening the body. This type of massage also helps to maintain strength. In addition, Ayurvedic massage goes beyond the purely aesthetic and superficial and stimulates nerve function (e.g. Bells Palsy). This massage improves relaxation, creating calmness and emotional well-being, and concentration and alertness are optimized. Myofascial pain, fibromyalgia and chronic internal disorders are addressed through stretches, opening up of the meridians and Ayurvedic acupressure points. Other benefits include relief from tension headaches, eye-strain, ear problems, neck shoulder stiffness, sinusitis, scalp tension and mental fatigue.
During this class students will learnhow to incorporate massage, oils and pressure point technique into a 45-minute massage. We will complete a full explanation of the Ayurvedic understanding of the life force Prana, Ayurvedic massage and medicine, as well as how to evaluate, analyze and treat the client as an individual. The three different types of massage suited for each individual will be reviewed. We will explain the functions of and locations of the marmas (pressure points) and nadis (meridian system). We will review the purpose of appropriate essential oils, carrier oils, herbs and energetic qualities for each individual client as well as how to match the personality type (Dosha) to the massage stroke and oils.
This class will be held on Friday, June 28, from 8:30am-5:30pm. Students will earn 8 CE hours upon successful completion of the class. Cost is $140 and class is instructed by Wolfgang Luckmann, AP, LMT.
Please call 610-705-4401 for more information and to register or register online.